LEST WE FORGET

WAR MEMORIAL DEDICATION
The Monument commemorates
Veterans of the Canadian Forces living and dead:
Army, Navy, Air Force, and Merchant Navy
from the Boer War, WWI, WWII, Korea, Peacekeeping, and Afghanistan
from Canada's founding to present from Brandon and Area.
Saturday 14 September 2013
Brandon, Manitoba, Canada
www.12mbdragoons.com/monument
.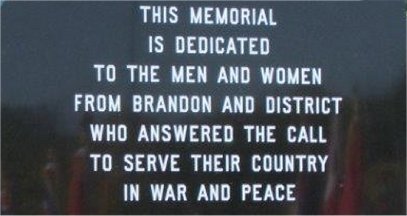 .
Most photos may be clicked for full-screen size
.
.
.
.
.
.
.
.

BACK TO
AS YOU WERE . . .
A WAR YEARS MEMORIES MONTHLY WEBZINE
Website and Photo Processing by
Museum Volunteer Bill Hillman
www.hillmanweb.com